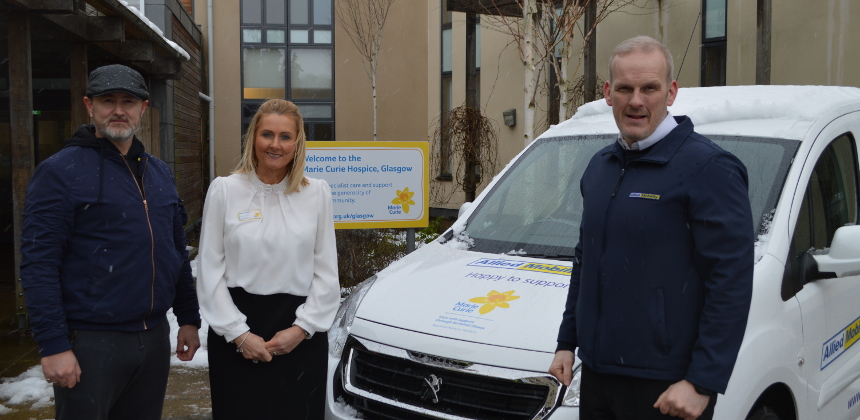 ---
23rd January 2018
Allied Vehicles Group has donated a wheelchair accessible car to terminal illness charity Marie Curie, meaning more people will be able to attend outpatient care at the Marie Curie Hospice, Glasgow and saving the charity £6,600 a year on the cost of taxis.
The car, a Peugeot HorizonTM has been donated through an open ended lease deal and is a fully wheelchair accessible vehicle built by Allied in Glasgow. It will be used by the charity's volunteer drivers to transport people to and from the hospice to access care. This could include appointments to see a physiotherapist, discuss their changing care needs or attend a weekly regular social group. The saving equates to the running costs of the hospice for a day.
Allied Vehicles Group was established in 1993 and has grown consistently to become the UK's leading supplier of adapted and special purpose vehicles.
The company's current annual turnover is £119 million it employs more than 650 people. Sales and support staff are located across the UK while the majority of the workforce is based at the main manufacturing plant and administrative headquarters, in Glasgow.
Allied Vehicles managing director, Peter Facenna, said: "Our head office is in the catchment area for the Marie Curie Glasgow hospice so many of our staff have had first-hand experience of the fantastic work they do. We are so pleased to be able to support the hospice with the donation of a wheelchair accessible vehicle."
Georgina Bushell partnerships manager for Marie Curie, said: "We want to do all we can to ensure no one misses out on the care they need. We're very grateful to Allied for this generous donation, which will make a real difference to people living with a terminal illness and their families."